Blog
A journey to Passive House in Vermont
by Peter Schneider, Senior Energy Consultant
In 2010, the Green Mountain Habitat for Humanity based in Charlotte broke ground on the first planned Passive House in their portfolio. The Charlotte Habitat chapter set out to build a house that would be durable, air-tight, and energy efficient - keeping energy bills and maintenance low for the owners of the home. Efficiency Vermont and the project partners were interested in proving the hypothesis that a home built in a cold climate like Vermont can meet the strict Passive House standard. So, four years later, how is the house performing? What has the energy monitoring data told us about building to the Passive House standard in Vermont?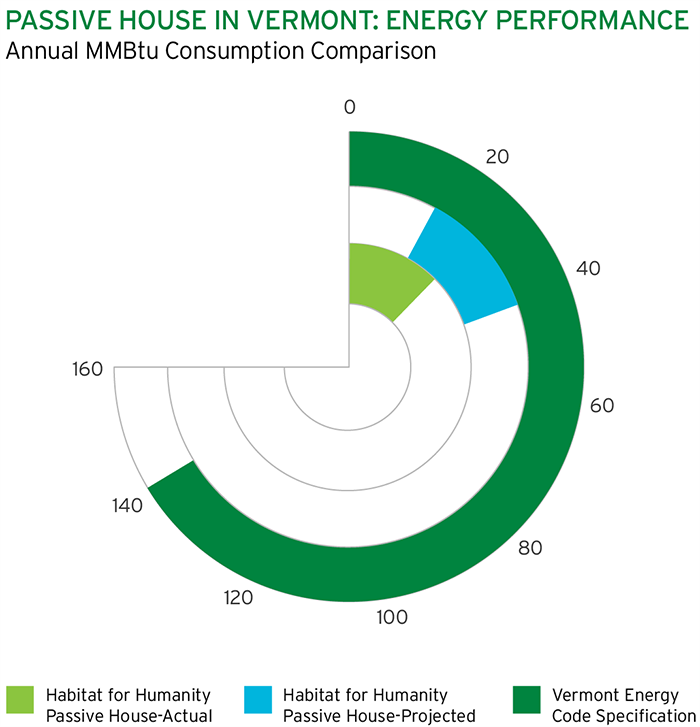 Passive House is a rigorous building energy performance standard, requiring a large reduction in energy consumption while creating other benefits such as comfort, durability, and excellent indoor air quality. For this project, assessing and verifying the home's performance was essential because this project was the first Passive House in the Northeast, the first modular Passive House in North America and the first Habitat for Humanity chapter to pursue and achieve Passive House certification.
Energy savings were projected to be between 75-90%, and the actual results from energy monitoring of the Charlotte Passive House show nearly 80% less energy use than a home built to Vermont's current energy code, making the home one of the best energy performers in Vermont. Indeed, the lessons learned from the Passive House project helped to inform the High Performance Homes tier for Efficiency Vermont's incentive program for new home construction. Homes designed to meet the High Performance Home standard include many characteristics of the Passive House energy standard and are cost-optimized for net-zero energy upon completion.
Some days it may seem like one Passive House like this one is like a drop in the ocean of the approximate 1.5 billion houses in the world but what if the trend caught on? Perhaps one of the proudest parts of this project: Habitat for Humanity chapters across the U.S. are using the home built in Charlotte, Vermont as inspiration for re-defining their affordable housing approach and increasing their energy standards.
Tell us what you think of the Passive House standard and the future of high performance home building in Vermont in the comments. If you're interested in making your home one that runs at peak efficiency, check out our guide: How to make your home net zero.