Press Release
Highest-ever incentives help Vermonters save money on home heating, energy costs
Winooski, VT
As Vermonters cope with an economic recession, Efficiency Vermont, VGS and Burlington Electric Department (BED) are announcing a raft of higher-than-ever incentives to help Vermonters reduce their home energy costs, make their homes healthier and more resilient into the future, and encourage investments that support the local economy.
The new offers are part of the three energy efficiency utilities' (EEU) response to the economic downturn brought on by COVID-19. The EEUs made changes to prioritize offers that increase customers' access to capital, help them avoid out-of-pocket expenses, and deliver substantial energy savings that put money back in their pockets. Program changes target the hardest hit customer segments, including low- and moderate-income Vermonters.
"Energy efficiency is a powerful way for customers to invest in themselves and the local economy. Efficiency projects make homes healthier and lower monthly energy costs for years to come," said Efficiency Vermont Director Rebecca Foster. "Spending money on anything right now feels scary, but with the highest incentive we've ever offered for weatherization, and with the first six payments covered on a no-interest loan, now is the best time for Vermonters to make this investment and help local contractors get back to work."
"The world we live in today is much different than it was just a few short months ago – and our commitment to keep energy services affordable and clean is now more important than ever," said Neale Lunderville, VGS Chief Operating Officer. "VGS has a long-standing commitment to our customers and our communities, and we believe these additional incentives will help even more Vermonters save money, reduce their energy needs, and make their homes comfortable all year long."
"Burlington Electric is committed to supporting economic recovery in our community through our Green Stimulus package, which includes enhanced weatherization incentives for homes and multi-family buildings, in partnership with VGS and Champlain Valley Weatherization Services," said Darren Springer, General Manager of Burlington Electric Department. "We encourage Burlingtonians to visit burlingtonelectric.com/greenstimulus to learn more about the broad range of new incentives available, including financing as low as zero percent for energy efficiency projects for residential customers, small businesses, and non-profit organizations. We are pleased to be joining with our partners Efficiency Vermont and VGS to invest in projects that reduce greenhouse gas emissions, while supporting the Vermont economy during these challenging times."
Weatherization incentives cover 75% of project cost
Starting July 1 and available only until Aug. 31 or until funds run out, Vermonters who qualify as moderate income (below 120% of median household income) can work with an Efficiency Excellence Network contractor to weatherize their home, including sealing air leaks and insulating their basements and attics. The new incentive will cover 75% of the project cost, up to $5,500.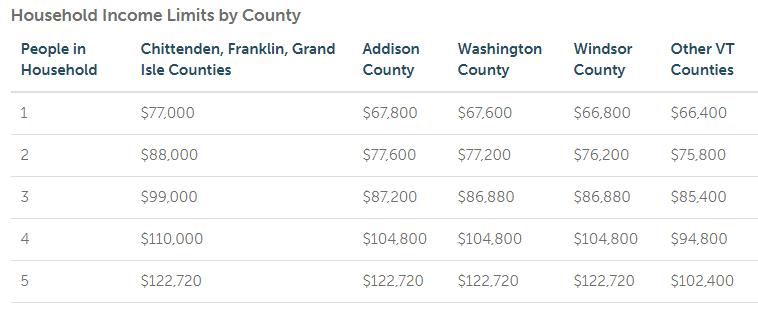 Through the recently enhanced Home Energy Loan program, Efficiency Vermont will also make the first six months of payments for customers (or up to $900), for loans applied for before 10/31. That means most Vermonters can now complete a comprehensive weatherization project for around $40 a month, with the first six months of payments waived.
While energy savings resulting from home weatherization projects can vary greatly from one home to another, most customers can expect to save hundreds of dollars a year on heating and cooling costs. In addition, weatherization projects performed by qualified contractors can improve the indoor air quality of a home, making living spaces healthier and more comfortable.
Higher-income customers will receive incentives of 50% off their project cost, up to $2,000, and below market-rate financing.
Equipment rebates for healthier homes
Low- and moderate-income Vermonters can also receive $50 back on qualifying efficient products that support healthier, more resilient homes. The rebate is available for purchases made before Aug. 31. Qualifying appliances include ENERGY STAR® certified:
Window air conditioning units
Dehumidifiers
Air purifiers
Freezers
Indoor grow lights (DLC-certified)
The 0% interest Home Energy Loan can also be applied to these purchases.
These offers are available only until Aug. 31 or until funding expires.
About Efficiency Vermont
As the nation's first Energy Efficiency Utility, Efficiency Vermont has helped Vermont avoid over 13.2 million metric tons of greenhouse gas emissions and has received the U.S. Environmental Protection Agency's ENERGY STAR program Partner of the Year – Sustained Excellence award for the last eight consecutive years. Efficiency Vermont works with partners to help our state transition to more affordable, low carbon energy use through education, incentives, and support for our clean energy workforce. Learn more at www.efficiencyvermont.com.
Efficiency Vermont Press Contact
Matthew Smith
Phone: (802) 540-7662
[email protected]
Efficiency Vermont
Customer Support
(888) 921-5990
[email protected]