To protect the health of our staff and our customers, Efficiency Vermont offices are closed to the public. We have cautiously begun scheduling project related site visits when required. You can find more information on our safety protocols here.
We know that you need support in reducing energy costs now more than ever, and we will continue to launch new offers and programs over the course of the summer. In the mean time, our customer support team is available to help you remotely. Contact us at (888) 921-5990 or info@efficiencyvermont.com.
How to make your home net zero
Net zero is the balance between the power a home needs and the renewable energy you can generate to match the need. With new heating technology and lower-cost renewable energy systems, any home can get to net zero.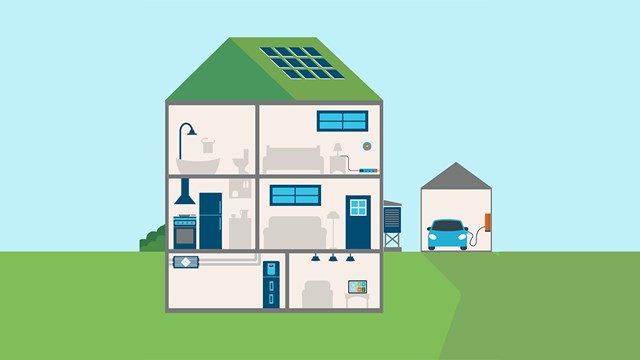 View diagram of a net-zero home.
Where does the path begin?
The path to net zero can begin anywhere. If you've installed an LED, you're already on the path. If you've replaced your appliances with ENERGY STAR® models, that's a significant step. Now that you've got some momentum, what comes next? Consider the routine maintenance your house already requires. Now consider the list of house projects you'd like to complete. Why not engage in that work with a net zero goal?
Once you're on the path to net zero, the next steps tend to present themselves naturally. How quickly you travel along the path is up to you; the key is to keep moving. No matter your timeframe, each project is an opportunity for an improvement in home energy performance. With that in mind, develop a plan that considers the most effective combination of home improvements within your budget, and make each one count toward reaching your goal of a home that can generate as much energy as it uses. Let's begin:
Renewable generation
Solar (roof-mounted PV panels) is currently the most affordable way to generate your own energy. A PV system can deliver electricity at 60 to 70% of the cost of electricity you buy from the grid.
Efficient water management
Reduces use of hot water (Low flow water fixtures, stacked plumbing, drain water heat recovery, and on-demand hot water recirculation).
Exceptional air sealing
Air sealing yields the greatest energy savings and improves the overall comfort of your home. Keep in mind that weatherization and proper ventilation go hand in hand.
Smart devices
Establishes limits to energy usage and reduces energy waste
Continuous insulation
With better insulation, a smaller heating system will do the job, and it will do it more efficiently. You'll spend less money both heating and cooling year-round.
ENERGY STAR appliances
Efficiency and durability for all major appliances.
High performance windows and doors
Replace old, drafty windows and doors with a high-performance, triple-pane brand, or install Low-E storm windows. Reduces heat loss, provides day lighting, and reduces risk of condensation.
Efficient lighting
Substitute old bulbs with LEDs, room by room or smart bulbs for low energy and high-quality lighting
Heat pump
Efficient electric heating and cooling (air-to-air, air-to-water, GSHP)
Fresh air system
Distributes filtered fresh air throughout the home with high efficiency heat recovery.
Heat pump water heater
Efficient electric water heating.
Home Energy Monitor
Optimizes energy use throughout the home
Under slab insulation
Reduces heat loss
Level 2 charging port
Enables faster at-home regeneration of an electric vehicle's battery system
The benefits of net zero home
Think of energy production and use as two sides of a scale. When you produce what you need, your home is in balance. The benefits of this balance come in many forms:
You will improve your home's performance, comfort, air quality, and looks, which will increase the its value
You will stabilize your costs. Solar has never been cheaper; invest in renewables now and lock in your energy prices for the next 25+ years
You will be more prepared in the face of power outages and more resilient over the long term
You will shrink your carbon footprint and help Vermont become 90% renewable by 2050
Financing to get the net zero
Vermont residents transitioning to renewables are eligible for state tax credits. Low-interest loans for home energy improvements are also available through Efficiency Vermont.
Financing ZEH improvement projects means you're paying incrementally as you go for clean power until it becomes free and you start earning from the energy you produce renewably by selling excess to the grid. Your bill gets smaller as you progress down the path.
A good rule of thumb is to aim for a positive cash flow from the beginning and go at your own pace. This will make your project more feasible, manageable, and produce far better returns than if you did nothing.