Blog
Vermont schools at the top of the class
by Richard Donnelly, Strategic Planning Manager
Our local schools are an important asset and resource in our communities—they are where our children grow and learn. They are also likely to be one of the biggest energy users in our towns. Energy inefficiencies in schools place an unnecessary financial strain on town budgets and taxpayers. In Vermont, K-12 school buildings comprise more than 20 million square feet in over 500 buildings, and house almost a third of our population during the school year. Our vision for all Vermont schools starts with healthy, energy-efficient learning and working environments.
In keeping with the importance of the schools sector, over the past decade-plus we have partnered with the school community through our support of the Vermont Superintendents Associations School Energy Management Program (VSA-SEMP). Working together with VSA-SEMP, school administrators, and facility personnel, Vermont schools have been steadily improving their energy efficiency and energy management practices year after year.
Benchmarking performance lays the groundwork for improvement
In 2015 Efficiency Vermont wrapped up a benchmarking study to improve our understanding of how Vermont schools are performing and where we can focus our resources to maximize customer benefit. Using the Environmental Protection Agency's ENERGY STAR® Portfolio Manager, which rates the energy efficiency of the whole school building or campus (based on a 1-100 rating system), Vermont schools scored an average rating of 84, more than 30 points above the national average of 50.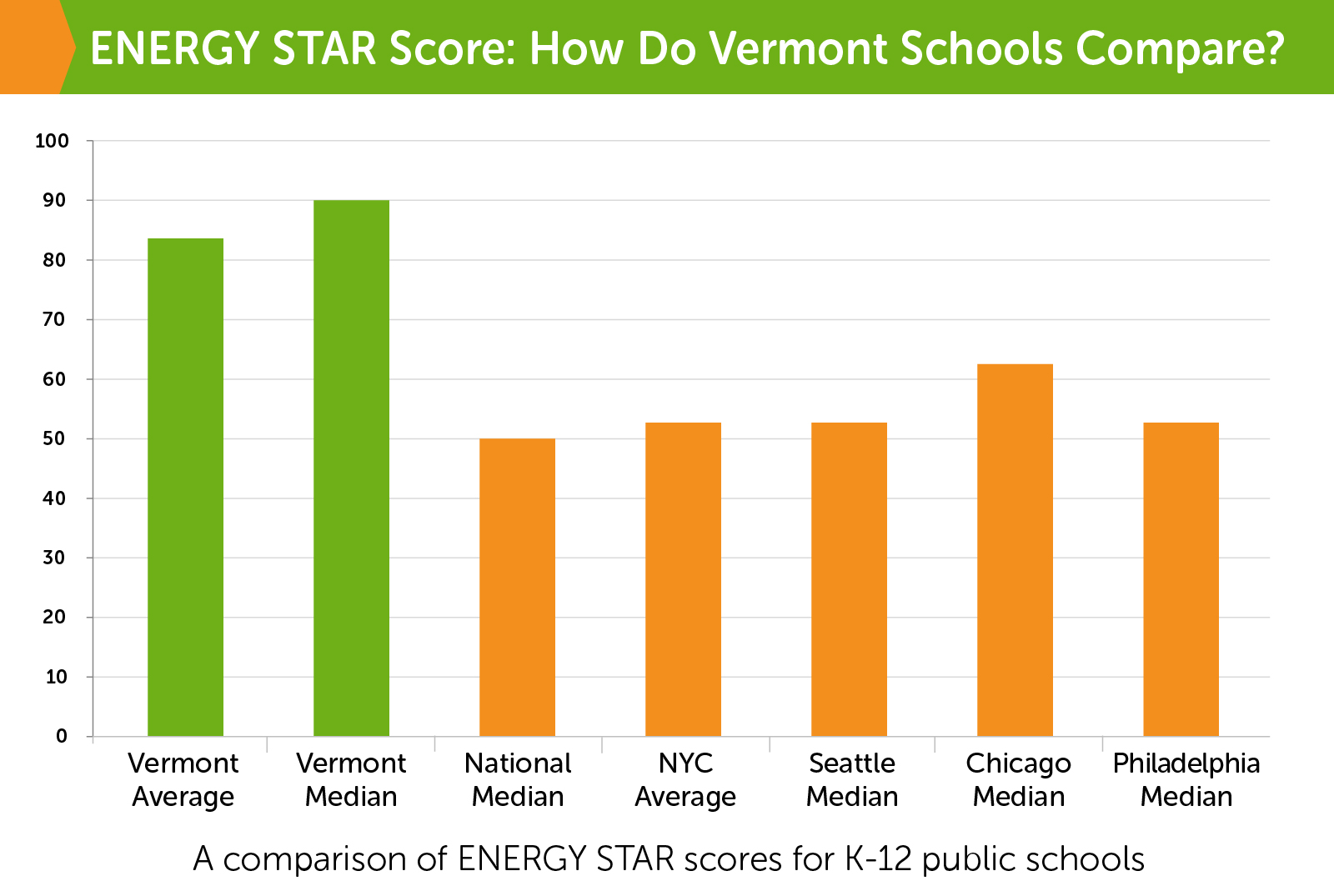 These remarkable results were achieved through two key strategies supported by Efficiency Vermont: the technical and financial support for the adoption of more efficient lighting, heating, and ventilation technologies; and improvements in managing how and when energy is used in school buildings. Schools are typically unoccupied 80% of the time (annually). Efficiency and energy management are equally important in order to maximize impact. For instance, the energy usage benefits of an efficient ventilation technology can go to waste if it is not running on an appropriate schedule.
In addition to their energy efficiency, Vermont schools are also national leaders in converting buildings to renewable fuels, with over a third of Vermont's school children now attending wood-heated schools. Many schools are also installing solar photovoltaic systems or entering into Purchase Power Agreements for solar systems off-site. With these steady advancements, it's not hard to imagine a day when many Vermont schools are fossil-fuel free.
Our energy future
Looking ahead, the path to healthy, efficient, and clean-energy schools is clear. First, we must continue to build upon our successful work with VSA-SEMP in helping schools manage and reduce their electric and thermal energy use. Second, we need to work with key stakeholders to help overcome funding barriers for those schools wishing to undertake comprehensive energy retrofits and switch to renewable energy sources. And finally, we should share Vermont's experience so that it can serve as a model for other regions and states.
Has your school made energy improvements? Let us know in the comments below!