Blog
Helping VT's Big Energy Users Save & Still Compete
by Jim Merriam, Director of Efficiency Vermont
Vermont may be one of the smallest states in the country, but it is still home to an impressive number of large businesses. These businesses play a crucial role in maintaining the health of our local economy, creating jobs, driving tourism, and providing high-quality goods and services.
It also takes a lot of energy to keep them running. That's why Efficiency Vermont is working with them to help manage their energy use and improve their bottom lines. The Industrial Peak Initiative is the latest example of how we are trying to help these businesses save money, stay competitive, and reduce their impact on Vermont's electric grid.
Benefits to businesses bring benefits to the state as a whole
First, it's important to understand how most commercial and industrial energy users pay for electricity. It's quite different than how things work for small businesses or households.
A large industrial company's annual electric rate continually changes, based upon their highest level of use each month. This is because the processes involved in their operation are often power intensive, requiring a lot of electric demand at a specific point in time. In order to ensure that our electrical system can distribute enough power to meet this high demand for kilowatts (kW) at all times, electric utilities must plan their resource requirements very carefully – and those businesses with high peak usage are charged accordingly. That's why a short-term peak in kW demand can cause a business' annual electric rate to increase dramatically: In one recent instance, with a business Efficiency Vermont helped, a single 15 minute peak in electric usage cost nearly $17,000, and drove a dramatic increase in their overall electric rate.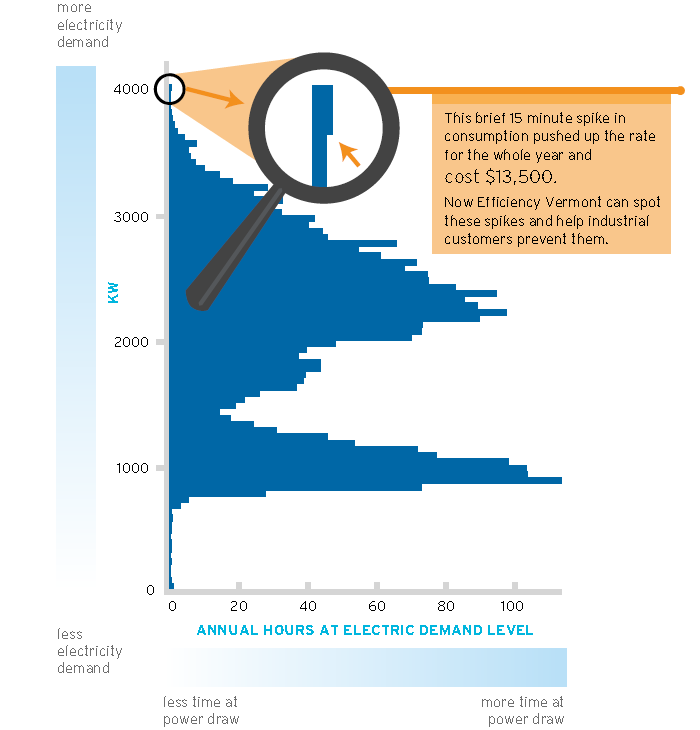 Ultimately, though, the costs associated with meeting these needs are paid by all Vermonters, not just the big businesses responsible for the highest levels of kW use. That's because we all pay to build and maintain transmission lines and power plants through our electric bills. The goal of the Industrial Peak Initiative is to decrease rates for these major users and help keep those transmission and generation costs as low as possible for all Vermonters.
Conquering steep peaks
The pilot initiative will focus on 19 of Vermont's largest manufacturers. We're partnering with them to better understand the specifics of their energy use, the cost of that use, and tackle potential areas for efficiency improvements and cost reductions. We'll begin by installing specialized metering equipment at each participating facility, which will allow us to closely monitor and analyze their patterns of electric usage at all times. With access to this data we will be able to pin-point high use periods down to 15 minute intervals and identify the source of those peaks. Efficiency Vermont engineers can then offer advice and incentives to help reduce peak use periods. Solutions may range from the simple and inexpensive (such as process changes that eliminate the use of equipment at unnecessary times), to those that require a larger investment (such as upgrades to more efficient equipment).
In the future, we plan to use this model to help more businesses across a wide range of sectors better anticipate and manage their energy costs. Stay tuned for more updates on the Industrial Peak Initiative; in the meantime let us know your thoughts in the comments below.