Blog
An MPG rating for your home
by Emily Levin, Planning and Development Manager
It's no surprise that labels can help guide behavior: we look to MPG when buying a car; we read nutrition labels when shopping for food; we value energy guides when buying new appliances – through these standard metrics, we've saved money, improved our nation's health, and reduced carbon emissions. What if we aimed for similar, significant progress by rating the energy performance of our homes?
Efficiency Vermont has been working as part of the Vermont Energy Score Working Group with key stakeholders (such as Vermont Gas Systems, the Weatherization Assistance Programs, the Vermont Public Service Department and more) to develop an energy label for Vermont single-family homes that can make this concept a reality. The label will complement the Home Energy Rating System (HERS) Index – a metric used for many newly constructed homes –and make a similar rating available to existing homes in Vermont.
We'd love to hear your input
We've been hard at work mocking up different options for presenting the home energy score and we want to know what you think. Take a minute with this quick poll and share your thoughts in the comment space below
Option 1

Option 2
Option 3

Option 4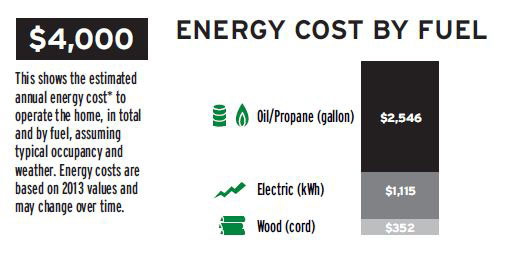 Please give us any additional thoughts on home energy scores in the comment section below. We're particularly interested in hearing your initial, intuitive reaction to the designs: Are they easy to understand? Confusing? What do you like or dislike about them?
The Vermont Home Energy Score Working Group is also inviting public comment. More information about the history of residential disclosure in Vermont and the proposed energy scoring metric and label options is posted on the Home Energy Score Working Group website. The public comment period will be open until September 4th, 2013. We welcome your feedback!