Ray's Market, a small local grocery, has been a fixture on the Irasburg, Vermont village green for generations. With its front-porch entrance and original wood floors, Ray's red brick building seems like it's hardly changed since it was built nearly 130 years ago. But look closer and you'll see a different story: Ray's Market is using cutting-edge efficient equipment. State of the art lighting and refrigeration upgrades, combined with a heat recovery water heating system, have cut the store's energy costs by more than $12 thousand dollars per year.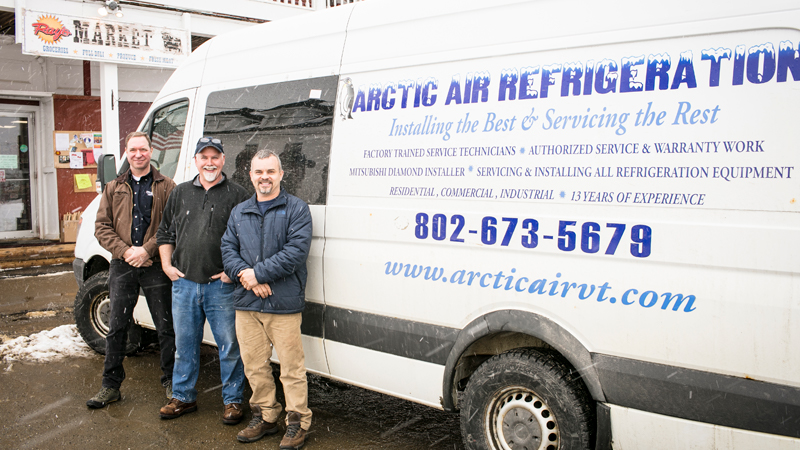 "No business is easy, but the food industry is very competitive," said owner Leo Piette, who worked with us to identify solutions to high energy bills. "You have to be careful about your waste factor and I knew I was wasting energy. Efficiency Vermont knew their stuff. I wouldn't have done this without their advice and rebates. It's great to cut energy costs so I can keep prices reasonable."
The improvements started in 2017, when Leo welcomed Ethan Bellavance, an Efficiency Vermont Senior Energy Consultant, to the market to find the causes of high electricity bills. Following Ethan's recommendations, Leo upgraded refrigeration equipment and lighting. Pleased with his lower energy bills and improved lighting, Leo then turned to us again, for guidance on reducing the cost of the significant amount of hot water needed for Ray's meat packaging process and for rental apartments above the store.
"Leo Piette invested in a very innovative approach," said Ethan Bellavance, "He's now preheating his water by capturing heat coming from his refrigeration equipment. That project will pay for itself in energy savings in less than two years. Now Leo has equipment that works as hard as he does to keep Ray's Market going strong."